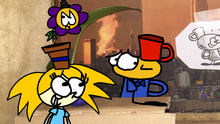 What's Up, Mugman? is not a Mugman episode but mainly about him. This episode is a talk show hosted by Mugman due to Lemur's lack of creativity.
Description:
Edit
Due to creative bankruptcy, Mugman hosts a talk show!
Characters:
Edit
Plancy and Flower
Chickpea
Abbi and Azul
Some unknown characters
This is the first time Lemur makes a Mugman and Plancy's World crossover.
Fans reviewed it negatively mostly because the animation is bad.
Lemur had fun making the episode but after he watched it again, he didn't like it.
Lemur uploaded the video but he removed it due to a copyright music which was hear in the video but was reuploaded without the copyright music.
Credits:
Edit
Animation: Jacob Lenard
Voices: Jacob Lenard as Mugman, Shanon Torrence as Plancy, Dan Lenard as Flower and the Announcer.
Set Builder: Marcy Lenard
Ad blocker interference detected!
Wikia is a free-to-use site that makes money from advertising. We have a modified experience for viewers using ad blockers

Wikia is not accessible if you've made further modifications. Remove the custom ad blocker rule(s) and the page will load as expected.