Mugman Vs. The Heat is a scrapped short of Mugman. Only 2 storyboards and an mp3 can be found of the cartoon.
Characters
Edit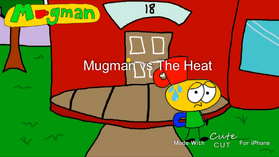 The lines that were meant to be in this video can be heard here.
Scammers was drawn, and is hidden in the sites files which can be viewed here.
Scammer is based off of a character from The Dups, known as "Scammers".
However, there was a parody of Mugman Vs. The Heat which was made by a user here. (The parody version includes Mugman, Sunshine, Johnny, and Scammers which Teanna doesn't appear in the parody. The person said that it has poor animation and it has over 500 or 600 views in the parody video.)
Ad blocker interference detected!
Wikia is a free-to-use site that makes money from advertising. We have a modified experience for viewers using ad blockers

Wikia is not accessible if you've made further modifications. Remove the custom ad blocker rule(s) and the page will load as expected.