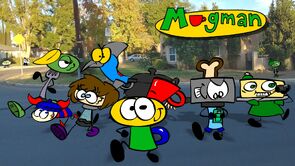 Mugman is a Flash animated web series created by Jacob Lenard. It debuted on October 29, 2014 with "Mugman's Wish," and officially ended on November 4, 2017 with "Farewell!" The series centers around Mugman, a naïve and innocent mug who often finds himself going on odd and bizarre misadventures with his friends.
Synopsis
Edit
Mugman is a family-oriented cartoon about an innocent, young protagonist in a whimsical and highly surreal fantasy world inhabited by anthropomorphic kitchenware, produce, humans, and abstract beings. Rather than full episodes or shorts, the series consists of segments or "cartoons" which can range anywhere from 30 seconds to 7 minutes. The longer segments typically have an opening, but the length of the cartoon does not always dictate whether an opening is added, as stated by Jacob Lenard.
The art style is similar to the look of animations created in MS Paint or Mario Paint, but more professional. Jacob has stated that he uses Paint.NET and Adobe Premiere to get the trademark look, which he refers to as "digital cel.". The creator of the show experimented with flash in the episode, Mugman at the Driving Range but disliked the style afterward and continued using Paint.NET. However, in the animated short "Trampoline", Jacob switched to Adobe Flash permanently and the outlines became anti-aliased in the remake of "Mugman gets into Shape". It is mostly animated frame-by-frame. Due to Lenard not being pleased with his work, Mugman, along with his other shows have been cancelled as he feels like they have been limiting his creative potential.
Jacob Lenard as Mugman, Officer Mr. Bob
Dan Lenard as Sunshine, Free Wizard, Phil, Bumbler, additional characters
Samantha DaCosta as Teanna Zia Amador as Pementa
Sterling Swanson as Onion O'Riely
additional voices by Ben Brown, Michael McMahon, Liam Humphrey, Xires Shaphiro, Lewis Lenard, Marcy Lenard and Andrew Turney
Episode List
Edit
Main article: List of episodes