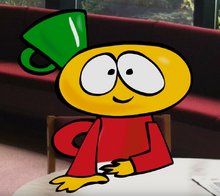 Mugman's Mixed Media
was a series of videos where Mugman would review strange, weird or obscure items.
It premiered on August 22, 2017 with "And We Go" and ended on September 19, 2017 with "Lady Cruncher".
It's notable for being the only series of Mugman videos that were released consistently, with a weekly schedule. (Which didn't last very long due to the creator later scrapping the concept).
The series was later brought back on December 9, 2017, but instead of Mugman's Mixed Media it now stars Jacob Lenard himself and is titled "Jacob's Mixed Media".
Ad blocker interference detected!
Wikia is a free-to-use site that makes money from advertising. We have a modified experience for viewers using ad blockers

Wikia is not accessible if you've made further modifications. Remove the custom ad blocker rule(s) and the page will load as expected.