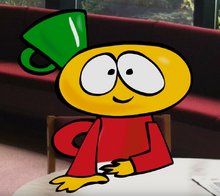 Mugman's Mixed Media
was a series of videos where Mugman would review strange, weird or obscure items. It ran from August 22, 2017 to September 19, 2017 with 6 episodes. It was scrapped by
the creator
due to him no longer liking the concept.
The series was later brought back on December 9, 2017 as "Jacob's Mixed Media", it starred an animated version of the creator instead of Mugman. This series was also short lived.
As of 2018, both series are no longer available publicly on the Lenstar Productions channel.
Episodes
Edit
And We Go
Edit
Uploaded August 22, 2017
Dancing Hamster
Edit
Uploaded August 24, 2017
Mario's Balls
Edit
Mugman talks about an interesting game.
Uploaded August 29, 2017
Bootleg Rugrats Toy
Edit
Uploaded September 5, 2017
Can You Herd Me Now?
Edit
Uploaded September 12, 2017
Lady Cruncher
Edit
Uploaded September 19, 2017. *Finale