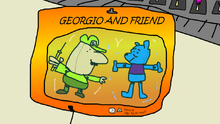 Georgio & Friend is a bootleg toy seen in Dollar Land. It contains a light-blue bear and a plumber wearing yellow-green clothes, which are obvious knockoffs of Mario and Winnie the Pooh, all in the same package. There is also a disclaimer at the bottom of the package that says "Warning: Play the toy wisely!", which is a spoof of Chinglish due to the fact that most knockoffs are manufactured in China. Pementa buys it for her "Knockoff Collection".
Ad blocker interference detected!
Wikia is a free-to-use site that makes money from advertising. We have a modified experience for viewers using ad blockers

Wikia is not accessible if you've made further modifications. Remove the custom ad blocker rule(s) and the page will load as expected.